Symbol of the Polish National Catholic Church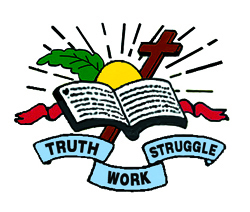 The symbol of the Church briefly summarizes the substance of Christianity. The Church strongly urges its faithful to incorporate these Christian principles into the daily routine of life by means of Truth, Work and Action.
The Book - represents the revealed Word of God.
The Sun - is the sign of religious freedom and fervor.
The Cross - is the mark of suffering and consecration for others.
The Palm - is the symbol of well earned peace.